---
Customer Reviews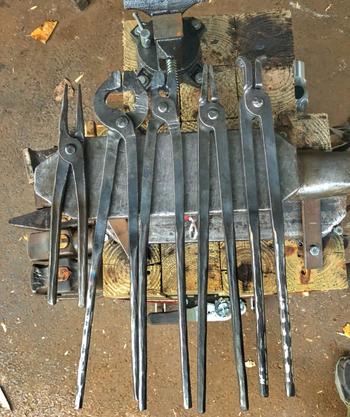 12/13/2018
Love these tongs!
So far I've purchased all the tongs I use from this line. Not only a great product, but a wonderful way to practice and reinforce smithing technique. Strongly recommend!!!
05/31/2022
Excellent quality
These tong kits have been a great start to learning how metal behaves under the hammer. Great quality, too.
Jared H.

United States
05/15/2022
Rapid box jaw tongs
Easy to follow instructions along with excellent quality makes for a great product. Thanks!
Todd J.

United States
01/22/2022
Quick way to get a good set of tongs
Love these tong blanks! They are a fast and easy way to make a good set of tongs.
Scott K.

United States
01/13/2022
Rapid Tongs Review
They arrived very quickly and forged and were forged and assembled by beginner students effectively.
Brian E.

United States
07/05/2021
piece of cake
order came quickly, tong blanks were as expected and are really easy to finish.
clarence v.

United States
04/03/2021
Great tongs
Have used them for quite a while very good tongs
Harold C.

United States
03/20/2021
Box Jaw Tongs
Same good quality as always! Will definitely be ordering more down the road.
Michael C.

United States
03/05/2021
The boss is right
As a beginner learning to get the boss right is a problem. With the rapid tongs it's right, (flat, straight, large, centered) so you can get a good rivet. Drawing out the rains and shaping the jaws are good learning exercise. When I get better I'll try the bosses again, until then I'll buy rapid or quick tongs
TL P.

United States
07/24/2020
Great product.
The tongs were easy to assemble and work great.
Glenn W.

United States
07/11/2020
Excellent tools, excellent price, good service. Good business ethics.
Solid made tool stock with excellent explanation both printed and on YouTube, as to how to finish them out. The sellers appear interested and dedicated to what they are doing with the intent of giving good service and a good product. I will be keeping my eyes out for additional tools. Mainly because of the good price. most of us would rather make our own rather than pay the prices but this supplier makes it very reasonable to go ahead and buy the basic stock and this is at a good price that I can afford and at the same time the remaining work to be done gives me good practice on blacksmithing skills. Glad to have this vendor available! W.Hodges
Wayne H.

United States
04/17/2020
Box jaw tongs
Super East to make a set of box jaw tongs that work great
Paul R.

United States
---