---
Customer Reviews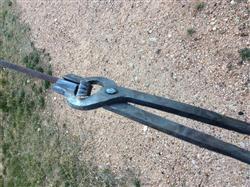 06/09/2017
Tongs
Quick tongs and Rapid tongs have saved me a ton of time, and time is money.
09/30/2019
Great tongs
Ken's bolt tongs are fast and easy to finish and hold strong to size.
Bill N.
United States
08/26/2019
Quality tong blanks
I was glad that so many you-tubers suggested and hyped Ken's. I expected quality and I got it. Also, love the fact that there are videos available just to check that I am doing things correctly. Would recommend these products.
04/27/2019
Easy tongs
Rivets could be a touch longer
01/27/2019
Too easy
I don't want to make tools all the time so this just makes it easy. I do like the lighter tongs as well. Most of the time I'm doing small things anyway.
11/19/2018
Rapid and spike tongs
The rapid tongs are fantastic and save a lot of wear and tear one the grip. The spike tongs were quite helpful but unfortunately they broke the same day I put them together, the 2 pronged tong snapped at the 90.
10/11/2018
Great!
I haven't had a chance to use cause my forge is under repair but they are pretty heavy duty and I've seen the video on how to put them together and it seems super easy. Would buy again!
04/26/2018
Rapid bolt tongs
Buy these things! Easy assembly. Great for smaller holds. Very lightweight.
08/10/2017
great tongs
Easy to put together works great.
02/28/2017
rapid bolt tongs
fast shipping to New Zealand easy to make ..idiot proof instructions
---