---
Customer Reviews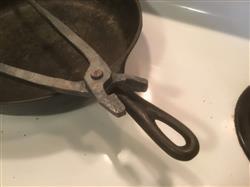 02/03/2019
HoT. Chisel
Fantastic , now I just have to learn how to cut a straight line. It cut great I tried it on my rapid tong , I basically wrecked my tongs .the v bit came out a bit weak on one side. The only disappointment is in the operator,maybe next time I'll do some improving.Thanks again for the excellent tool
03/04/2020
Hot Chisels
Haven't use it yet...but getting ready to.. Sure like yours products... Thanks
Nelson S.
United States
02/23/2020
Hot chisel
The chisel works great. Very nice tool
Dennis J.
United States
12/20/2019
Right sized and it works.
I have been a hobby blacksmith for over 40 years and usually make my own tools, but when it comes to something that is made of a tool steel that I don't have and can't get easily, then it's time to shop at Kens.
John R.
United States
11/14/2019
Great Hot Cut Chisel
Really nicely crafted chisel. Fits comfortably in the hand, cuts well, and beefy enough to last for many years. Another great addition to my tool collection from Ken's Custom Iron!
William F.
United States
11/06/2019
Hot Chisel
Quality tool and delivered quickly..
Eric B.
United States
11/04/2019
Great tool
This chisel cut what I needed it to cut just like expected. Worth every penny.
Joseph P.
United States
10/08/2019
Shawn P.
United States
08/09/2019
Quality products
I am purchasing all of the hand tools from Ken's as they are extremely well made. The hot chisel looks different from the picture as the body is more round but that doesn't affect its function. It has performed perfectly at the anvil!
Kenneth G.
United States
06/14/2019
Phenomenal Craftsmanship!
Great tool! Fast shipping. Easy buying process. I will be a long time customer.
05/20/2019
great tool
Quality tool, great price, fast delivery. I've purchased two tools both great quality.