---
Customer Reviews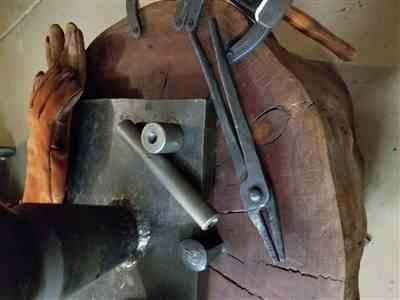 07/12/2019
American made tools
Nothing beats American made tools very well made very happy with my purchase
Dan B.
United States
03/12/2020
New customer
I placed my order and everything came in one delivery. Shipping was fast and my order was packaged well. Thank you.
Brian P.
United States
03/12/2020
Great Stuff
Very well made. Clean finished look, sits well on the anvil. Everything Ken sells is of the upmost quality and certainly made with the blacksmith in mind.
Ron .
United States
03/05/2020
Rivet Tool
easy to use tool, nice finished look.
Scott H.
United States
02/17/2020
Quality pieces
Awesome addition to any blacksmith shop
Jason m.
United States
01/19/2020
GREAT PRODUCT and FiRST CLASS SERVICE
Quality products with first class service..Thanks Ken
Scott H.
United States
01/06/2020
Perfect quality pieces
This set is extremely well made, very impressed and happy with the purchase, I will buy from Ken's again.
Scott B.
United States
12/31/2019
Great product from Ken
Can't beat the price for the tools. Well crafted and would buy again.
WILLIAM C.
United States
12/15/2019
Excellent tool
The rivet tool is high quality and easy to handle along with the bucking tool. Would recommend this tool for high quality finish work
Harold S.
United States
12/12/2019
Great rivet tool
This tool is heavy duty and great to work with. Workmanship was fantastic. The office was very helpful and pleasant to speak to.
David C.
United States
11/26/2019
Excellent Rivet Tools
These Rivet and Bucking tools are very stable on the anvil. No more smiley faces on my rivet heads!
rick g.
United States
11/03/2019
Right tool for the job
Bought the buck and setter for copper rivets on a small ornamental project. Though I've not finished they work exactly as I had hoped. A little heat and the right length on the rivet and bing bang bong all good.
Richard Y.
United States
---