---
Customer Reviews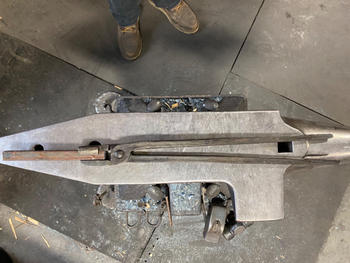 05/15/2022
Quick Box Jaw Tong Blanks
This item worked great! Made a test pair, modified slightly to make 5/8'' square bar. Then taught 2 others to make their set. All were successful! Thanks to all at Ken's Custom Iron!
Gaylan V.

United States
03/23/2020
Fantastic product easy to get done
Absolutely love the this product. On the scale of 1-5 I would say it is level 2, not hard to do at all. Might not be the best looking tongs ever been made but I am very proud of myself lol. Thank you Ken, you are the best.
Halko Z.

United States
05/26/2022
Easy Peasy!
Constructing these tongs was not only a simple task, but an educational one as well. Learning to make these blanks into tongs has taught me more about tong construction, a lesson I will be able to use in future forging endeavors.
Kyle D.

United States
05/04/2022
Blacksmithing Tongs
This item is a great way to build the tools needed to start blacksmithing. I have purchased several of these blanks and they come with everything to put them together including excellent instructions. I really cant say enough about Kens Custom Iron. It is a fantastic small business doing a great job for artisan needing equipment. Thank you Kens custom Iron
Matthew H.

United States
04/11/2022
Quick Box Jaws
Excellent product very heavy duty, very good customer service.
Fred R.

United States
07/14/2021
box jaw tongs
Excellent service and quick delivery. Easy to transform the blanks into usable tongs.
Kenneth L.

United States
06/26/2021
Box jaw tongs
These tongs are amazing
Joseph F.

United States
04/03/2021
Nice!
Easy to build, very sturdy. Nice step by step instructions with pictures come with. I also bought the knife tongs and split jaw tongs. Well worth the money. I will definitely do business with Kens custom's again!
Eric L.

United States
03/07/2021
Ken's Custom Iron Box Jaw Tongs
Made my box jaw tongs this weekend, both sizes (Rapid and Quick models) came out great. Set each one up to handle different size square and rectangular stock. In fact, I've now got both sizes of all of Ken's tongs, and just love them. The printed instructions along with the YouTube videos make it a breeze. There's nothing worse than trying to forge when you don't have the right tongs to hold your stock tightly, never again!!
John D.

United States
02/17/2021
Easy Peasy Lemon Squeezy
I just got started in blacksmithing as a hobby about a year ago and bought some of my first tongs from various vendors online. On average I paid $40.00 - $50.00 per tong. Those tongs are nice, but definitely take a big bite out of your bank account. I found Ken's website and was ecstatic to see that I could buy the "Do it yourself" tongs for a third of the cost or less. I bought numerous tongs from Ken and have been forging them a little at a time. The instructional videos on YouTube are incredibly helpful as well for a beginner like me. I will definitely be buying more supplies from Ken's as needed.
Randy

United States
01/31/2021
Great product Great Value
Excellent Quality. Great price. I purchased 5 tongs for the price of one. They are easy to assemble and you can customize them to fit your needs. Best tongs on the market.
Jimmy S.

United States
01/01/2021
Great tool
Worked perfectly
Robert M.

United States
---