---
Customer Reviews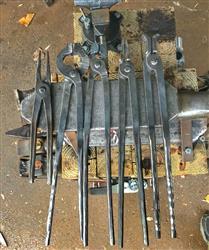 12/13/2018
Love these tongs!
So far I've purchased all the tongs I use from this line. Not only a great product, but a wonderful way to practice and reinforce smithing technique. Strongly recommend!!!
03/07/2020
GREAT WAY TO MAKE TONGS
John from black bear forge said these are good an they are a great way too get started
Rodney A.
United States
03/07/2020
Orin B.
United States
02/25/2020
Retired
Makes it really simple for a beginner. Ken is great to do business with.
David B.
United States
02/13/2020
Very easy way to build tongs.
I love how easy it is to make a good stout pair of tongs. I will order many to fill my rack in the Smithy. Thank you.
Morgan B.
United States
02/07/2020
Outstanding
All of Ken's tong kits have to be the best way to get the tongs you need for whatever you are doing, until such time as you get better at making what you need from scratch. Even with the rise is shipping fees the price is exceptional. Thanks Ken & Crew.
SFC C.
United States
11/16/2019
Box Jaw Tongs Assembly
Buying these tongs pre-cut and ready for assembly was the best idea I've had in a long time. It takes just a little pounding and shaping, some minor drawing out of the reins and drilling two holes for the rivet and its a done deal. End product... very nice!!
Greg A.
United States
09/23/2019
Great Box Jaw Tongs Blanks
I bought several sets to make up different size tongs. Worked out great. Easy to complete. Website video extremely helpful. Thanks.
WALTER H.
United States
08/18/2019
Rapid Box Jaw Tongs
It came quickly, and they look and act just as described. The instructions that came with them and the YouTube video were excellent. I am very happy with these and will be getting more soon.
Benjamin G.
United States
05/28/2019
great product
I haven't had time to make the tongs but will order more soon as I get them done
05/28/2019
rapid tongs
very good unites
01/27/2019
Great Product
Great product with easy to follow instructions.