---
Customer Reviews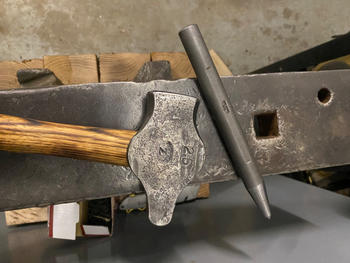 05/18/2022
Another beautiful piece
My 2nd purchase from Ken's did not disappoint great craftsmanship and super fast shipping. Can't wait for my next purchase.
Patrick M.

United States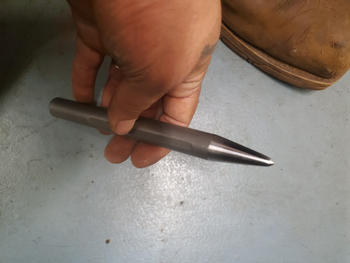 07/05/2020
Dream come true
I bought the punch to use for work purposes. It punches HY-100 steel without hesitation. The guys in my crew ask to use it on a regular. They call it "the Javelin". I'm trying to get my company to buy some more. For the price you can't beat it.
Lannie p.

United States
05/16/2022
Excellent Center Punch
I have purchased several blacksmithing tools from Ken's over the years, All of Ken's tools are very high quality at very competitive prices, this Center Punch is also an excellent tool, with proper care it should last a lifetime.
James D.

United States
02/28/2022
Center Punch
Excellent product. Well made and will work for some time.
James V.

United States
02/24/2022
John punch
Excellent finish in a tough tool
John T.

United States
01/16/2022
A forever tool
A solid punch that will last throughout many lifetimes of use.
Mark W.

United States
12/12/2021
I like it!
Good quality. I really like the length of the punch. So many others I've used in the past are too short.
Kevin T.

United States
03/31/2021
Incredible center punch
What a beast love this punch and again the quality is above and beyond anything I have seen
Jeff M.

United States
02/14/2021
It's a beast
I was expecting a center punch about the size of a pencil. What showed up was a BEAST of a center punch. It works perfectly and you would be hard pressed to miss this punch with your hammer. It's an awesome tool, that will probably take me years to wear out.
James J.

United States
10/08/2019
punch
great price awesome craftmanship.
Shawn P.

United States
01/11/2019
Center punch
Thank you once again for an excellent tool. The center punch is a heavy duty punch with lots of length for bigger hands. Top quality finishing and excelent choice of steel make this a must have goto punch. I will be using this daily!
12/08/2018
Kens custom Iron center punch
Great center punch as usual from Ken. All products have been of top quality and very well made.
---