---
Customer Reviews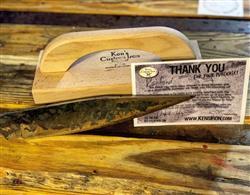 02/03/2019
Great products! Great people!
These guys have great customer service. They ship out quick and they sell quality products. Oh yeah and they are American made
02/25/2020
Wire Brush...A must have
Very well constructed brush. A must have in your shop. Stiff flat bristles work well for removing scale. Fast shipping as always. Thanks!
rick k.
United States
02/09/2020
Awesome wire brush
Love the wire brush, nice and stiff and great for big work!
Barbara M.
United States
01/26/2020
Excellent brush
Excellent for forge scale removal. Keeps my forging clean and smooth. I have even used it for removing flux core and stick weld slag and it worked excellent for that as well. The Ken's logo is a nice touch.
Dustin T.
United States
12/16/2019
The wire brush I purchased
It works great very sturdy bristles will be getting more merchandise for sure
Anthony S.
United States
10/30/2019
Bought as a gift
I bought this as a gift for my husband. He loves it. Said it's the perfect size and it very well made.
Samantha H.
United States
09/24/2019
Stiff
what can ya say, this is a nice large stiff brush.
Shawn P.
United States
08/09/2019
Wire brush
Very nice brush. Very happy
Darrell D.
United States
07/26/2019
Excellent service!
My son loves to blacksmith & said this is the perfect addition to his blacksmithing tools. Said it works amazing & the quality is top notch!
Jodie W.
United States
06/10/2019
Wire brush
It's great, good construction. Real sturdy.
Mark B.
United States
06/10/2019
Wire brush
Good quality heavy duty brush . Great service and people to deal with l
Troy B.
United States
06/05/2019
Wire Brush
Great stiff brush. great company to deal with
Brian W.
United States
---