---
Customer Reviews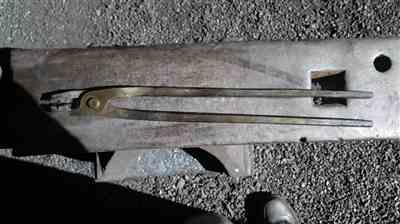 11/03/2019
Rapid V-Bit Tongs
These tongs are great! Very easy to put together. I took extra time and hot punched the rivet holes. It's a lot easier to just drill them. Thanks!
Elton C.
United States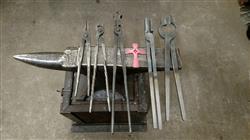 01/27/2019
Can't buy the steel for what they cost !
I've gotten several sets of tongs and couldn't be happier they are the perfect starting point to save time and make them your own the reigns are well sized to the jaws they were very friendly and informative from purchase to shipping to instuctions and you almost can't buy the steel for what they cost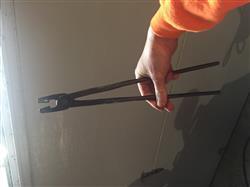 01/26/2019
Easiest tongs to make at a great price
These tongs are great. They are so easy to finish and the price is good. I will continue to buy them in the future. I have made tongs from bar stock and appreciate the labor savings the Ken's Custom Iron tongs provide.
01/21/2020
Top notch quality!
Return customer to Ken's Custom Iron and I will keep coming back for great quality and exceptional service! Buy Ken's punches and chisels, you can;t beat the price and quality! You can't even buy the steel and have it shipped to you for what Ken can produce them! Seriously,you can't make em cheaper!
Robert M.
United States
11/25/2019
V bit tongs
Super easy to make. Thank you kens
Paul R.
United States
09/08/2019
Best small tongs I use
Went together easily, I am a beginner. I use this set more than all the others.
Scott W.
United States
08/23/2019
Great price
I've bought multiple sets of tongs and really like the price and quality you get from it.
Tim M.
United States
08/11/2019
Well Made--easy to assemble
The v-bit tongs went together 1...2...3 .I adjusted them to fit some small rod and square stock I use .Real easy to assemble ; even a beginner like me had no problem after watching Kens instruction videos.
rick k.
United States
05/23/2019
They keep doing it
The best customer service and order shipping online. always a fantastic job plus reasonable pricing.
05/14/2019
Rapid V-Bit Tongs
Not as easy as the video appears for a new forger. Was hoping these would get me away from using locking pliers sooner. Taking a bit longer than expected to complete but even for a beginner, I have a tool that (almost) looks and works like they should.
03/17/2019
Awesome tongs
Super easy to complete. Fast shipping good product what else can I say it's all good Thx Hoping to buy a power hammer in the near further mk75 has my name all over it. Thx KENS!!!!!
02/27/2019
Excellent products
Great products, excellent personal servicd. I highly recommend them to all my students.
---