---
Customer Reviews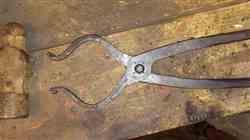 05/18/2019
Such a great product
They emailed me about the pre-sale. And I jumped on it as I've had many dealings with Ken's iron.com. The products are always great and the service is even better. Received mine today they were everything I expected them to be. I needed a pair of hammer I tongs and they came out great!
12/20/2019
Using to make brazeal ultimate tongs.
I have been really liking Kens tongs and am drawing the front out and curving a little ( think following his pick up tongs a little) and then will weld a piece of angle iron to the one side. The longer grip point to rivet distance will let it hold a wide range of square and round stock.
Tim M.
United States
---