---
Customer Reviews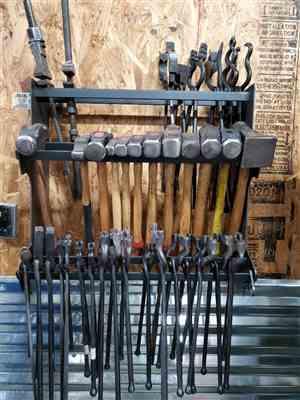 11/03/2019
Tong and Hammer Rack
A great idea and design, every shop should have one. The best part is I just had to install and no time in having to build it.
curtis s.
United States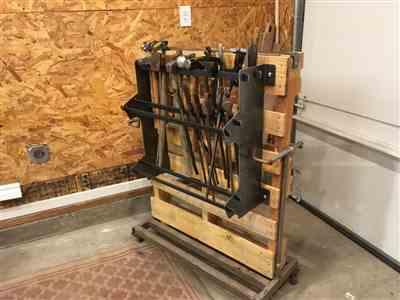 08/05/2019
First time purchase
This rack is very sturdy and well made. It arrived in record time! I was very impressed and will shop here again.
Charla H.
United States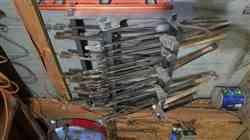 04/08/2019
Perfect addition.
After years of learning my hammer against the wall or leaving them o the table I now have my rings and hammer neatly hung on the wall. This is a perfect addition to any shop.
01/01/2019
Tong and Hammer Rack Review...Awesome!
First of all this is a great design and a great price. I own three and it has helped organize my shop. An enhancement would be to create another slot in-between the two existing slots so a narrow space could be created with the flat bars thus accommodating more types of tools. To satisfy my need I tried several solutions, two of which worked but only one the last mentioned is best. The first, I made a u-shaped clip piece from ¼ square stock and placing it in the middle of the bars squeezing the into a two wat wedge shape, this helped but only a small area close to the clip could be used for the smaller tools. My next solution I created a mini rack with three bars so I could hang either files, small hammers or small tongs and the rack rides on top of the hammer rack rails. If you have more than one rack as I do, you can place the mini rack on the rails coming out of the hammer rack ends and hang the smaller tools in-between the racks giving even more storage space and organization. I also drilled the rail ends and put a piece of welding rod in each hole to prevent the rails from moving. This rack has consolidated a huge amount of space in my shop small one-man shop and I like the racks and own three of them. I needed as much space as possible so the first two I installed at 36inchers apart and the last one I installed at 48 inches apart. This one is holding swages and top swages without incident. I'm sending pictures to Ken's Custom Iron, as I was not able to pictures to Facebook or this site. Hopefully they will be able to post this review and pictures for everyone to see and if it works for you copy the idea.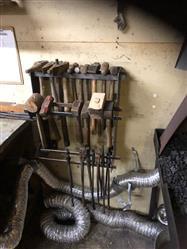 12/26/2018
Tong & Hammer Rack
Very cool Idea and well made. Needed a rack to fit in an odd space so I ordered it without the bars. Cut my own bars to the size i needed and it works perfectly. Well made and sturdy. Good product, and a good price. Love this company!
03/09/2020
Ken has done it again.
Ken made it easy to make your own tongs, and he has also made it easy with a very affordable kit to properly store your hammers and tongs. I highly recommend Ken's Custom Iron for all his great offers.
Philip P.
United States
12/22/2019
Blacksmith tong rack
Good quality.as always which I've grown to expect from my multiple purchases over the years. Will definitely by from Ken" s again
Tim M.
United States
08/09/2019
have'nt installed yet but looks
have'nt installed yet but looks good
Esther L.
United States
06/01/2019
Tong and Hammer Rack
Great hammer storage idea. Thanks!
05/03/2019
Tong and hammer rack
This was my second purchase of the hammer rack. I ordered it for a friend who collects auto body hammers. Now his hammers are in order(not in a drawer) and easy to get to when needed. Thanks Ken's Custom Iron! You have two very happy customers!
---