---
Customer Reviews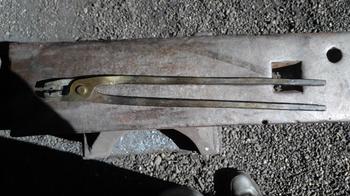 11/03/2019
Rapid V-Bit Tongs
These tongs are great! Very easy to put together. I took extra time and hot punched the rivet holes. It's a lot easier to just drill them. Thanks!
Elton C.

United States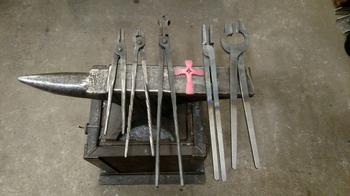 01/26/2019
Can't buy the steel for what they cost !
I've gotten several sets of tongs and couldn't be happier they are the perfect starting point to save time and make them your own the reigns are well sized to the jaws they were very friendly and informative from purchase to shipping to instuctions and you almost can't buy the steel for what they cost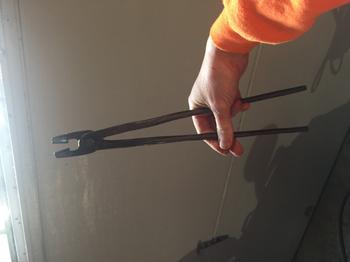 01/26/2019
Easiest tongs to make at a great price
These tongs are great. They are so easy to finish and the price is good. I will continue to buy them in the future. I have made tongs from bar stock and appreciate the labor savings the Ken's Custom Iron tongs provide.
04/13/2022
Rapid v-bit tongs
Excellent customer service. Came with small note only a family company would do. Definitely purchasing from these great folks again
Todd J.

United States
04/04/2022
Rapid tongs
Yet another excellent product from Ken and crew.. You guys never disappoint you got a customer for life
Joe P.

United States
02/12/2022
V bit tongs
Great products and video a little work on my part and I have a very good pair of tongs
LARRY C.

United States
12/12/2021
Rapid tongs
Best way to get tongs made. I have bought about 10 sets of blanks both Quick tongs and Rapid tongs. I'm totally sold on the v-bit and bolt tongs. I recommend them to everyone
David G.

United States
12/21/2020
Excellent Items!
This item, amongst many others here at Ken's is well made and serves well!
David V.

United States
12/10/2020
Great deal
Great deal,great service
TONY B.

United States
08/06/2020
excellent starter kit
great way to get starter making your own forging tools. easy entry level project, with a good price point.
kenneth m.

United States
07/04/2020
Tong's
These are very good set a Tongs they h old horseshoe very well.thank you so much. Horseshoe art by Don
Don E.

United States
07/02/2020
Rapid V-Bit Tongs
Amazing!!!!!!!!!!!
Brandon L.

United States
---