---
Customer Reviews
03/05/2022
Best tong blanks ever
I was able to shape these tongs for the project at hand very easily. Getting tong blanks from kens is much more economical when you're starting out over getting square or round stock and making tongs from that
Dennis B.

United States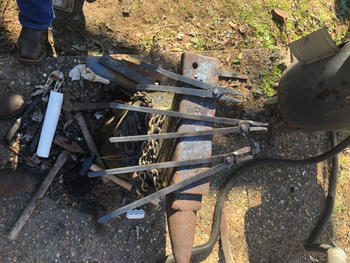 01/31/2022
Great tongs Love American Made
Great sets of tongs good packaging and color instructions. Nice to have YouTube videos on how to finish them. I could of found a cheaper alternative but I love supporting American business. Would buy again. Looking forward to buying more products in the future.
Michael J.

United States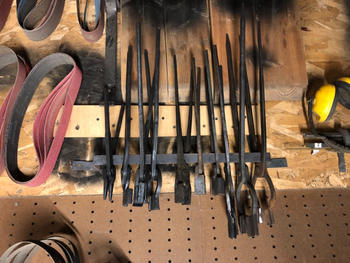 02/02/2021
Good but a bit fiddly
I have bought several sets of tongs from Kens and the quality is top notch. The only issue I had with the knife tongs was they did NOT want to line up. All of the other sets I bought have gone together pretty easily. It probably had more to do with me than the tong blanks but it was a little frustrating. Once I got them lined up they work pretty well. I will still be buying all my tongs from Kens!
Brandon H.

United States
07/23/2022
Easy enough
Easy enough for my second forging project! Any questions I had were covered in the instructional video associated with the item!
Steven E.

United States
07/19/2022
Great customer service, quick shipping and made in America! My second order of tongs was even better than the first! Thanks Ken!
Charles S.

United States
04/22/2022
4th or 5th purchase.
Great item, if you are new, these are super easy to complete. If you are more experienced, these are easy to customize. I might have 10 pair of Ken's tongs
John L.

United States
04/16/2022
Excellent Quick Knife Tongs
The instructions were superb. Even a beginner like me could make these into a nice looking and useful set of tongs
Jim W.

United States
03/08/2022
Quick knife tongs
Great product...I will buy again.
Robbie H.

Canada
02/23/2022
Works great
The only problem I had with making these was the step down. Once I got that it went very easy. Used them for the first time this morning and made things so much easier.
Jason R.

United States
01/17/2022
Raymond A.

United States
12/19/2021
Great tool
Is easy to finish and works great
James R.

United States
12/12/2021
Typical excellent tong blanks
Haven't finished yet, but I know they will work great like the Ken's tongs I have previously completed.
Covert F.

United States
---