---
Customer Reviews
09/18/2019
My new hammer and tong rack/stand
My order was shipped promptly though the package looked like it was dropped kicked....that must have left a scar Not Ken's fault and no harm the steel in the package. The plates only took a single pass on my grinder to clean up the edges and they were ready to mount. I made a wood stand and mounted it so I can slide my tools to where I need them. Extremely well made.
DD
David D.
United States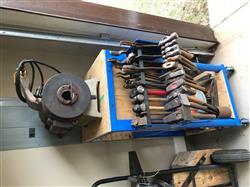 03/17/2019
Good Hammer Rack
This is a very nice addition to my forging needs. It helps me keep things picked up when they have a home to go to.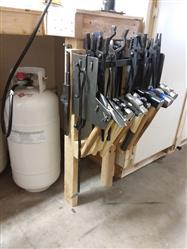 02/16/2019
Compact Tong & Hammer Rack
Compact, efficient, high quality, and price worthy! Exactly what I was looking for to install near my smaller gas forge in the corner of the shop. Fit the need and looks great! And the best of all is that I just had to install it and did not have to fabricate anything. I would do this again for the great price.
03/14/2020
Great shipping
Still have not assembled but looks superb
Henry K.
United States
11/26/2019
Excellent Hammer Rack
A great rack. You can't go wrong. A very heavy duty item. Very fast shipping.
Paul C.
United States
08/13/2019
tong and hammer rack
Well built; had to take a file to the bar slide holes because they were too tight. Better than a loose fit! Thought I was going to have place a "tack weld" to keep the bars from moving around- no need.
greg l.
United States
07/04/2019
Compact Tong and Hammer Rack
Arrived double packaged. Excellent condition and product. Got the one without the bars, going to use my own bars,
Ray B.
United States
05/12/2019
Great size for a small shop
My wife got me the compact tool rack for a birthday present. I've just started the hobby about 3 years ago and have a small setup next to our shed. I built it with 18" long 1/4" x 1" rails and it just fi tbc s nicely into the available space and can handle all my tools.
04/01/2019
Compact Tong and Hammer Rack
This has been great for my shop organization. No longer am I searching a bucket for the right set of tongs. Hammers fit nicely as well but some ofy smaller hammers don't fit as well. But I would highly recommend this product.
05/05/2018
amazing idea.
Very well made and simple. Great product and 5 stars is earned here.
12/29/2017
The Answer to my Christmas Dilemma!
Ken's Custom Iron is my hero! I was in a quandary trying to figure out what to get my husband for Christmas; I wanted to get him forging stuff, but didn't know enough about it to pick something appropriate. A friend suggested Ken's website, and I went to the gift section and picked out $100 worth of cool-looking stuff. It showed up on time, just as promised, and my husband LOVED it all! He couldn't believe how cool the stuff was and has spent hours looking at the website ever since. Thanks, Ken!!
10/06/2017
Well worth the money
I built my rack today I was able to get all my tools in one spot
---