---
Customer Reviews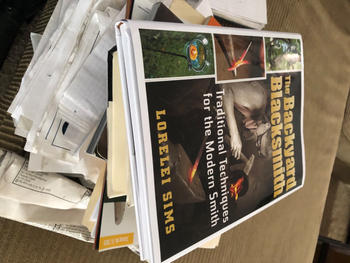 08/02/2020
Great Book
A lot of good info and fun projects to try. Definitely is a great addition to the library
Joe S.

United States
04/16/2022
Excellent service, quick delivery and great price! Great book! Have recommended it to several people! Thank you!!!
Peter C.

United States
10/11/2021
The Backyard Blacksmith , By Lorelei Sims
Great reading , read it twice . Wish I would have found this earlier , would have saved hard learned lessons and waste of materials. I highly advise reading this book, you're journey will be easier. Richard R.
Richard R.

United States
04/16/2020
Excellent Book
This is a great book...one of the first I bought when I wanted to develop my interest in blacksmithing. Ms Sims is an excellent smith, artist, and writer, and the photography is well done. I highly recommend this to beginner and pro alike!
David S.

United States