---
Customer Reviews
08/04/2018
Mini spikes
I love them, they are hard to find and make awesome letter openers...Kens Custom Iron has always shipped super fast, and always has fair prices...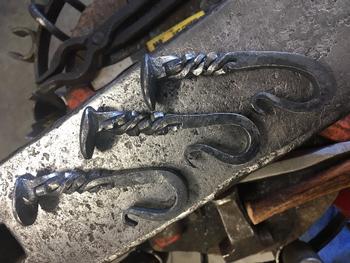 12/13/2017
Mini spikes made into xmas gifts
I bought about 30 of these to make a variety of different christmas gifst. Mostly bottle openers. I also purchased the bolt tongs that I sized to hole the mini spikes and they worked great!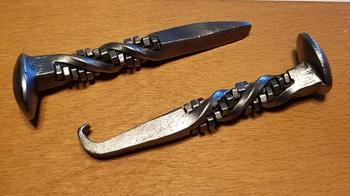 11/18/2017
Mini RR Spikes
Perfect small size for making railroad spike items without the weight. These are small enough to fit in your pocket.
04/16/2022
Minnis Forge Railroad Spikr Review
These spike shipped quick and arrived in great condition. I highlynreommend this product.
DOUGLAS M.

United States
02/21/2022
Awesome project
Great product at a great price, couldn't be happier.
Kevin M.

United States
11/23/2021
GOOD SPIKES
Clean and shipped securely.
DUNCAN S. BRADLEY

United States
05/05/2021
Railroad spikes
I haven't had a chance to use them yet, but look forward to it. They most definitely beat what I'm used to. I'll be using them for novelty knives to sell for a Alzheimer's Awareness fundraiser that my wife and I do every year on June.
Roger C.

United States
12/13/2020
Versatile
There are hundreds of trinkets, animals and bugs not to mention trivets a person can make with these
Bob H.

United States
08/03/2020
Small railroad spike
The railroad spike was for a five year old who likes trains. Hexeas pretty excited about it so I assumevthats a 5 star review!!! Thanks
Alexander C.

United States
07/27/2020
Mini railroad spikes
I received them quickly and the product was perfect for my project. Very pleased
Deborah R.

United States
11/28/2019
mini railroad spike
great product would buy again
Ronnie M.

United States
11/27/2019
Great Product
Great prod. Well made.
Larry R.

United States