---
Customer Reviews
08/04/2018
Mini spikes
I love them, they are hard to find and make awesome letter openers...Kens Custom Iron has always shipped super fast, and always has fair prices...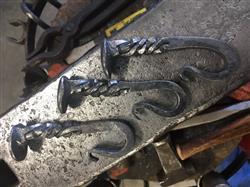 12/13/2017
Mini spikes made into xmas gifts
I bought about 30 of these to make a variety of different christmas gifst. Mostly bottle openers. I also purchased the bolt tongs that I sized to hole the mini spikes and they worked great!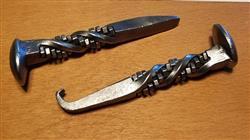 11/18/2017
Mini RR Spikes
Perfect small size for making railroad spike items without the weight. These are small enough to fit in your pocket.
Guillermo P.
United States
11/29/2019
mini railroad spike
great product would buy again
Ronnie M.
United States
11/27/2019
Great Product
Great prod. Well made.
Larry R.
United States
09/11/2019
Mini railway spikes
They very well made and the communication was great. I always knew where they were. Will definitely buy again. Thanks from Steve in Australia
Stephen A.
Australia
08/19/2019
Great Find
I sent these to my son in Japan, who is a blacksmith. He said they were perfect for what he was forging.
Jana R.
United States
07/03/2019
Great Items and Great Service
I ordered two mini railroad spikes. I was given a refund on excess shipping. The items arrived early. Very pleased with everything. Would buy from Ken's Custom Iron again. Thank You !!
Keith S.
United States
06/26/2019
Mini Railroad spikes
Good Evening v, I received my order , They were just as advertised ! Will be advertised ! I have several projects already for them . Take Care and Be Safe ! Loved everything I got with my Order ! Thank You so much ! I will return again , again to your you alls Store , to get things for my Shop, Best Wishes Larry
06/17/2019
Mini railroad spikes
Theses are awesome!!...will be perfect for horseshoe art!
David R.
United States
04/10/2019
Mini Railroad Spikes
Quick and Awesome service as always from Ken's Custom Iron. Mini spikes are awesome and a blast to play with. I make spike knives from them and they sell faster than I can make them.
03/13/2019
Perfect!
Exactly what I needed for a nice touch to a build for my sister on her birthday! Thanks!