---
Customer Reviews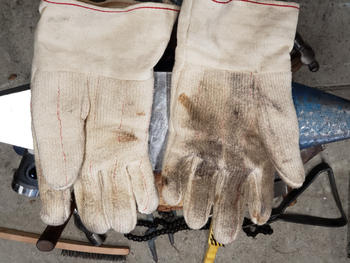 12/12/2021
Like tough but cozy oven gloves
These gloves work great. Like the protection of a tough oven mitt and the dexterity of a glove. The cotton breathes enough where the gloves don't become moisture laden and transfer hot steam to your hands.
Robert S.

United States
06/18/2022
Cool gloves!
They do their job but don't forget that steel is very hot. I'll buy them again.
Michael C.

United States
05/08/2022
The heat hasn't gotten to my hands yet. First hot mill gloves I can say that about.
Bob D.

United States
01/01/2022
Gamechanger
These hot mill gloves are an absolute game changer when working hot steel with chisel, punch or touchmark. Excellent product!!
Chris D.

Canada
04/17/2020
Hot mill
Very good hot mill gloves. Just as good as the Kevlar gloves but much cheaper
Paul R.

United States
12/29/2019
hot mill gloves
These gloves are far superior to other cheaper gloves I have tried.
Wayne W.

United States
12/13/2019
Great gloves
These gloves work really good at keeping off the heat. The only drawback is to make sure you keep them away from your grinder/flap disk sparks as they will smolder away to being unusable. I have just ordered two more pair .
Wayne W.

United States
05/22/2019
Great mitts
Very comfortable, well made mitts. Do exactly what they are designed to do.
06/03/2018
Protex Gloves
The gloves were awesome, worked as described, but I put them in my bucket? Went on brake, & was talking to a student when another student ran out to tell me the finger in my left glove was smoking & had burned to the palm. My wife asked the people at Kens Iron if the Kevlar gloves might be a better choice. Kens Iron replaced my Protex gloves with Kevlar at no charge, (not my intention or request) thank you for your extraordinary service, I haven't used the Kevlar gloves yet , but excited to do so. Thank you again for your great service