---
Customer Reviews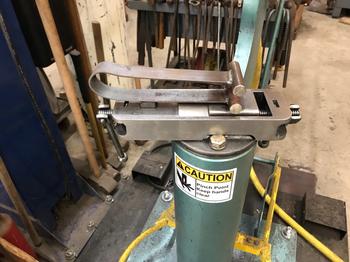 10/15/2020
Power hammer die saddle
I really like this die saddle. It's well built a d is a great addition to my power hammer.
Ralph B.

United States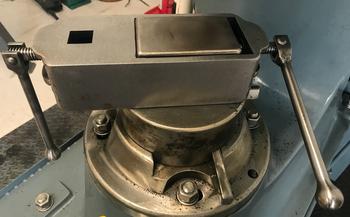 11/26/2019
Power Hammer Die Saddler
Fits my Anyang 88 perfect! Love it and looks great.
Craig C.

United States
05/26/2022
Power Hammer Die Saddle.
Like all of the products that I have purchased from Ken, the die saddle is well made tool. Fits my Say Mak perfectly. Prompt, personal service. John
John L.

United States
12/12/2017
Mz 75 saddle die
This thing is one heck of a well built piece of tooling and i am so glad i went ahead and purchased it along with the MZ 75 powerhammer,if you are in need of a well built tooling saddle for your powerhammer do not hesitate to make the purchase from Kens Iron,it is built like a tank,pics do it no justice and as always the customer service was top notch. Thanks Mary Lou amd Ken
10/08/2017
Excellent workmanship
I often hsitate to purchase something I can make myself. When I do purchase some fixture, tool, or die, I expect it to be better than my own work standard. The custom saddle die I bought from Ken meets this criteria. The welds and finish are much better than my own, and I am proud to have it on my hammer. Thanks Ken!
08/19/2017
Excellent
Great craftsmanship, very well built. Great customer service. Any questions are directly inquired by Ken himself. I like to talk directly to the makers of my tools and not through a third party. Very knowledgeable of the items they make. Great company and recommend all their products.
06/22/2017
Kens
Excellent product and service! Top notch
10/23/2016
Die Saddle for Say MAK 110
Absolutely perfect fit. Used it as soon as I got it - didn't shift, ABSOLUTELY recommended for anyone looking to free up a hand for their power hammer tooling. Thanks!!! - Keith Decatur, GA