---
Customer Reviews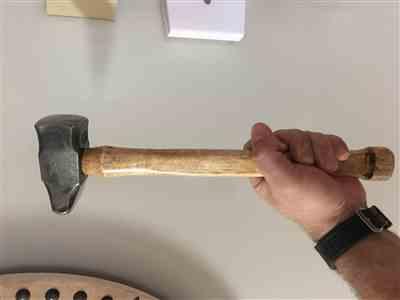 12/22/2019
Excellent hammer!
I Purchased this hammer a few weeks ago and have used it every weekend since. This is my "go-to" hammer for most projects... handle is shaped nice for delicate work but still excellent for pulling back and letting it fly... it's my most veritable hammer despite the weight. I too will be waiting anxiously for additional weights to add to my arsenal... excellent hammer! Thank you Ken.
Adrian G.
United States
02/24/2020
My "go to" hammer!
This is the hammer that stays on my anvil from now on! I fluctuate between several of my other hammers that mostly stay on the rack, this hammer NEVER rests on the rack! It's a great weight, a great handle design, and a professional tool. I love it!
David M.
United States
12/05/2019
KCI Cross Peen Hammer
Today was the first day I got to use my new hammer, and I love it. As soon as I picked it up, it felt perfect, and like I had been using it forever. The workmanship is beautiful. I can not wait for Ken to make some other sizes. Thank You Ken for a job well done.
Wayne Z.
United States
05/24/2019
Cross Peen Hammer
Put the hammer to work as soon as I received it The weight is just right for a old guy to swing Only problem is the handle is small for a guy with large hands other than that is joy to use Keep up the good work
05/19/2019
Hammer time!
Comfortable. About 1/2 pound lighter than my regular hammer but might become the new "regular". I like the handle as well.
05/10/2019
Cross peen hammer
I loved it right away it has become my go to hammer thank you