---
Customer Reviews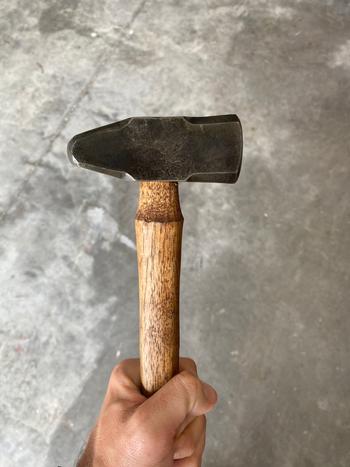 11/25/2021
Go to hammer
I've been using this KCI 2 pound cross pein hammer for 4 months and let me just say it is my go to hammer. I use it every time I'm in my forge. Highly recommend you add this to your arsenal!
Justin G.

United States
07/28/2021
2 pound cross peen
The weight of it is perfect and the handle fits just like I like it. Can't wait to move more iron with it!
Justin G.

United States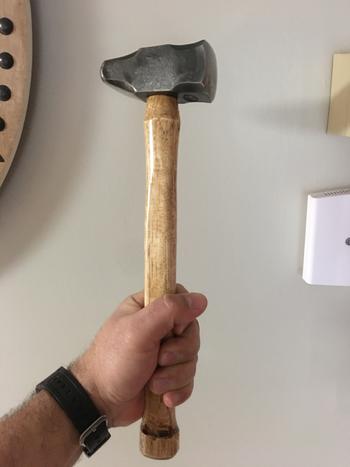 12/22/2019
Excellent hammer!
I Purchased this hammer a few weeks ago and have used it every weekend since. This is my "go-to" hammer for most projects... handle is shaped nice for delicate work but still excellent for pulling back and letting it fly... it's my most veritable hammer despite the weight. I too will be waiting anxiously for additional weights to add to my arsenal... excellent hammer! Thank you Ken.
Adrian G.

United States
05/16/2022
Great hammer!
Very happy with this hammer. Wish I bought it years ago.
Dennis K.

United States
04/13/2022
Practical Hammer
I really like the compact head on this hammer, much easier to control over a Swedish style hammer. The face I feel is a little rounded as well which is another feature I really like as well as it doesn't cause cold shuts, but still flat enough for me to smooth and crisp up edges with as well. The handle is really nice as well and fits me good, overall a great hammer and now I have the cross as well as the straight version.
Tim M.

United States
04/10/2022
Great hammer
This is a very nice hammer. I have more than one of their hammers. The weight and handle are great. I am looking forward to more hammers.
Patrick P.

United States
03/19/2022
Better hitter
Excellent custom made blacksmith hammer. Couldn't have asked for anything better. Fits like a glove. Perfect weight. Highly recommended
Gregory W.

United States
02/23/2022
KCI Cross peen 1.75#
I would definitely recommend this hammer. The shape of the head is great for shaping and finish work, the rounded peen sure helps move material and hide those less than perfect hammer blows. The only draw back is the handle is a little on the small size. But this could be because it's a new tool to me or my hand and forearm were already fatigued before using this hammer, and maybe I should try wearing a glove. Who knows maybe me and this hammer will bond and I'll prefer this handle over the others.
Kenneth F.

United States
02/20/2022
KCI 2lb. Cross Pein
Great hammer, would not change a thing about it.
Nanette T.

United States
01/30/2022
A wonderful workpiece!
I purchased this to replace the generic $20 blacksmith hammer I got from amazon, and I couldn't be happier. This has immediately become the workhorse of my workshop. Along with a set of quick and rapid tongs, I feel like I can tackle any project now.
Charlie B.

United States
12/29/2021
Should one love an inanimate object? If it is this hammer: Yes.
Like most smiths I have a penchant for hammers, having more than a few. I can't seem to walk past a hammer without buying it. However I only "like" my hammers. Until now that is....now I love a hammer. Of the 20-25 hammers I have, this is the only one that feels like it is a blacksmith hammer...that makes me feel like I am a blacksmith. It moves metal better than any other hammer I own. I have German pattern, engineer type, Swedish pattern hammers and the like, but this is my "go to" hammer. As others have said, I will add to the set as they become available.
Kevin L.

United States