---
Customer Reviews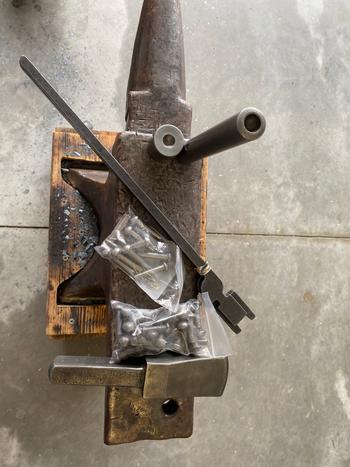 11/25/2021
Hot Cut!
A real piece of art that works great. I've used it several times and recommend it.
Justin G.

United States
05/15/2022
Cut off tool
Well built. I haven't used it yet but quality is there
Leon J.

United States
04/28/2022
Excellent tool!
I'm not a professional but I would say these are the best blacksmithing tools you can buy! 10 times better that what I started off with that I ordered off of Amazon.
David W.

United States
03/07/2022
Solid
A wonderful hot cut tool. Nice and solid, easy to pop in and out of the hardy.
Charlie B.

United States
02/02/2022
Hardly Hot Cut-Off
Really like this piece. Looks great, clean lines, sits well in the Hardy hole and appeals to the eye! Thanks guys, Jim
James P.

United States
01/07/2022
Hot Cut Off Hardy
Very well made, works as it should. No issues shipping to Canada.
Murray M.

Canada
12/20/2021
Great, tough tool!
Love the radius of this cut off tool! Wide enough for the big stuff, great curve makes it easy to cut smaller stock without accidentally kissing the edge with your hammer. Great quality - but hey, it's from Ken's - I've never made a bad purchase from this guy! ...and watch his vids! Shipped quickly.
Dan M.

United States
10/29/2021
Looks great
Looks like good quality haven't had a chance to use it yet but have no doubt it will work great
Matt k.

United States
08/10/2021
Hot cut off hardy
Looks and works well as with all Ken's tools.
Mike B.

United States
06/28/2021
Hot Cut-Off Hardy
I got it sooner than expected. Opened the box and it looked exactly like the picture on the web page. Quality is everything I've learned to expect from Ken's. I actually just watched the youtube video of Ken making a cut-off hardy. As far a functionality is concerned, to quote Doug Marcaida from FIF, "It will cut".
Thomas B.

United States
06/19/2021
Hot cut hardy
This hardy is tough! It is nice and heavy. I can tell that it is well made.
William B.

United States
06/13/2021
Well built
Very nice tool. The tongs were great too. Very satisfied
Thomas D.

United States