---
Customer Reviews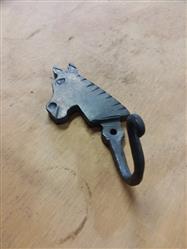 02/15/2019
Horse Head Hook
This is definitely a great piece to start with as a wonderful hook. You can buy the extra tools you need for the ears and eyes, or just make them.....it's what blacksmithing is all about. Most of all, have fun and sharpen your skills.
05/07/2019
Horse hooks
Heavy duty hook, looks best with two eyes (IMHO), easy to modify.
05/06/2019
Fun to Learn
Scored a few of these various blanks to see if I even had any hope of giving this hobby a go, after using a acetylene torch to heat these hooks up I was able to draw the metal out and etch a small design! This has inspired me to pursue this a bit further and getting ready to order some tong blanks and attempted to make some tools to further delve into this! I can't wait to share my progress in future purchases and attempts!
02/06/2019
Tongs and small projects, horse head, anvil, hammer and tongs
I am a retired tool maker, and have worked with steel most of my life. Started pounding steel to keep busy, bought a lot of books to learn from. I found your company and bought some tongs and since then bought a lot of "project" pieces. I have learned more from your short "how to " videos than any book I have. The quality, rapid shipment and friendly service is the best. This how to run a company. I would highly recommend Kens Custom Iron to everybody !