---
Customer Reviews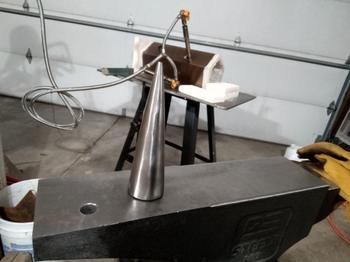 12/15/2021
Great Price!
IT's a hardy cone. Cheapest I could find, price not quality. Well made, fast shipping.
Dana F.

United States
06/04/2022
Hardy cone of awesomeness
Excellent all around. Fit my hardy hole perfectly. I just made a series of small wrought iron chain links and a bunch of weought iron D Links. This really came in handy for this project. a great tool! thanks Kens for all your work! I definitely recommend this tool.
Quinto M.

United States
05/27/2022
Hardy cone
Excellent craftsmanship on these tools. The hardy cone is well made and well worth it. This is perfect for fine work. Great job Ken. Thanks for the quality tools! I have never been disappointed by Ken's work. They have excellent products and their customer service is A+.
BlacksmithQ

United States
01/16/2022
Top Quality
Exactly what I needed, a great complement to my horn.
Mark W.

United States
06/30/2021
much needed tool
an excellent addition to my smithy as my Anvil horn is not the best shape for what i'm doing.
Matthew O.

United States
06/28/2021
Perfect small tool
I bought this for forming colonial candle snuffers, but I can see many other uses. I love when a hardy tool sits perfectly in a hardy hole and this one is just the right kind of snug yet easy to remove. Perfect hardy tool
Kevin L.

United States