---
Customer Reviews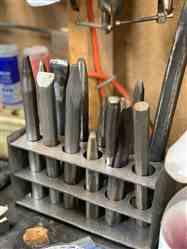 06/04/2019
Brilliant Idea!
I purchased this as a preorder and it was worth the wait. It is so simple in its design which is why it is so great! Very easy to either peen together or weld. I opted to peen it. Took less than 5 minutes to do. Excellent design and helps to reduce some of the chaos at the forge. Thanks, Ken for another quality tool/ product.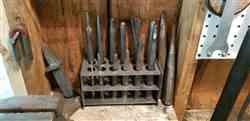 06/03/2019
Nice Rack
The tool organizer is great. Quick and easy to put together with just a ball peen hammer. Keeps my punches and drifts organized and east to see.
Jerry S.
United States
09/26/2019
Hand Tool Organizer
Had to work on the end pieces slots to get them to fit the tool holder pieces to able to put them together But overall they hold tools nicely
James L.
United States
06/17/2019
Sweet Organizer
If brevity is the soul of wit, (Yes, a blacksmith quoting Hamlet) this is a witty product. 5 minutes with a ball peen and it is done. It is secure, strong and perfect for holding tooling. I don't need a second one, but I just might order a second one because it is so easy to put together. Then I will have an excuse for more tooling..... Great product.
---