---
Customer Reviews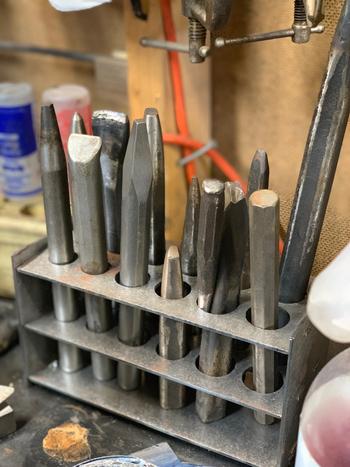 06/03/2019
Brilliant Idea!
I purchased this as a preorder and it was worth the wait. It is so simple in its design which is why it is so great! Very easy to either peen together or weld. I opted to peen it. Took less than 5 minutes to do. Excellent design and helps to reduce some of the chaos at the forge. Thanks, Ken for another quality tool/ product.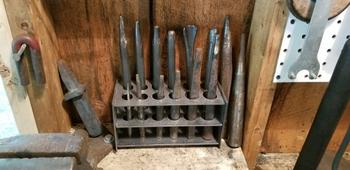 06/03/2019
Nice Rack
The tool organizer is great. Quick and easy to put together with just a ball peen hammer. Keeps my punches and drifts organized and east to see.
Jerry S.

United States
03/22/2022
In order
Excellent quality great price recommend
Gregory W.

United States
01/17/2022
Great buy
This is my second one, filled the other one and liked it so much, needed more organization, had to buy another one. Their awesome!
Todd C.

United States
12/26/2021
Tool organizer
Great very.heavy
Tracy V.

United States
12/13/2021
Good quality
Good Quality. Excellent Packaging.
Michael S.

United States
12/13/2021
Sturdy and quick to assemble
I got this on sale and I'm glad I did. It's sturdy, was really easy to assemble, and has really helped organize my work table. I'd definitely buy it again...in fact I might buy another one.
Matthew S.

United States
08/16/2021
If 1 is good, 4 are better...
I bought one, loved it, filled it, wanted more. Bought a 2nd, same story, then bought 2 more after that. It is just a great organizer not only for my smithy, but I can think of many other areas that these sturdy metal organizers could be useful.
Kevin L.

United States
04/24/2021
Hand tool organizer.
Well worth the money, assembled easily, well made.
Timothy

United States
04/14/2021
Hand Tool Organizer
Works great,All ready using it .
Robert S.

United States
04/11/2021
Tool organizer
Very easy to put together and all punches and chisels are very easy to see and find.
Tom C.

United States
04/11/2020
Hand Tool Organizer
Perfect to have on the work bench holding punches & chisels so you're not always hunting through your tool box or shop for them.
Steve B.

United States
---