---
Customer Reviews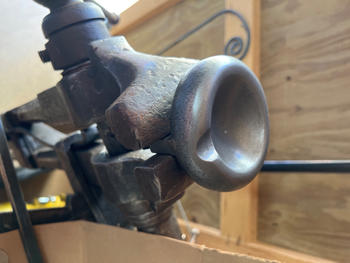 03/13/2022
Just what you need.
Just what you need. Bought the cupping tool along with the embossing hammer and some leaf/flower kits. Everything perfect as described. Sturdy. Tool should last me a lifetime.
Jordan D.

United States
02/13/2022
I was very excited when I found this
I already had a 3" ball for my hardy hole and I was hoping this would match up the cope so I could use these 2 together as a make shift press. They fit so precise you would think they were designed together. I am very happy with this purchase.
05/24/2022
Works perfect for my needs
The cupping tool is ideal for what I need. Well made and will be around longer than me.
Kelly P.

United States
03/31/2022
3.5" cupping tool
Great tool, fair price, shipped promptly. Couldn't ask for better!
Richard S.

United States
03/13/2022
Ready to use
The perfect tool when you need one. Smooth & ready to use , not rough & in need of polishing before use.
Jim A.

United States
12/26/2021
3.5 in. cupping too
Well made and durable. Holds its shape!
Doug I.

United States
10/18/2021
Excellent
Yet another great product from Ken's Iron. This is an absolutely solid build. It is exactly as shown in the photo and as utilized in the YouTube tutorial. I will continue to make purchases from Kens Iron, I've experienced nothing less than high quality products and phenomenal customer service.
Todd C.

United States
09/28/2021
Built to last forever
If I had one word to describe it would be STURDY. Clamp this little beast in your vise and you are ready for any cupping job. The cutout on the side is well thought out for making anything with a handle like a spoon or ladle. I used it recently for making leaves on a stem and it worked perfectly.
Robert S.

United States
02/10/2021
Finally, I am a gardener!
I couldn't raise roses so I decided to forge roses. The cupping tool is great for beginning the petal shaping. I haven't started the leaf shaping but ot appears the cupping tool will help "naturize" a leaf. Thanks, Ken.
Russell C.

United States
06/02/2020
Top Quality
Perfect for multiple applications.
Richard M.

United States
03/04/2020
Dennis Galli
Love how the cupping tool works on the flowers and leaves. Definately a great purchase.
Dennis G.

United States
07/12/2019
3.5 -inch cupping tool
The cupping tool is a quality build tool and very useful. The tool not only works for cupping but also works on small projects for forming. I am very satisfied with the tool.
Wayne Z.

United States
---