---
Customer Reviews
01/23/2020
The Celtic Cross is a keeper!
As always, KCI delivers a wonderful product along with the ordering, receiving, and customer service. I really appreciate the genuine spirit found with KCI, and it shows when you receive a product. This Celtic Cross is no exception. People really like the finished products and ask for more. So I guess I will need to purchase more of these soon. You're a Blacksmith, so let each of these products you make be as different and unique as you are. Always a sure bet with KCI. Thanks for the quality products with that great price point!
Dave W.
United States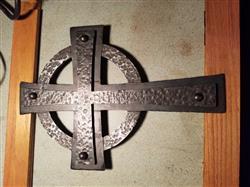 02/17/2019
Celtic cross project
Awesome product! It was easy to make and of superb quality. I will be making more very soon. I recommend purchasing this item as it makes a great gift for St.Patricks day or any occasion.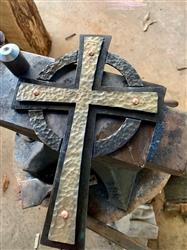 11/19/2018
Fun Project
A great entry level project that can be completed rather quickly with very beautiful and satisfying results. At first, I ordered one just out curiosity—it's a symbol dear to our hearts. My three year old son even helped me complete it! We had so much fun making it, and it turned out so well, I just ordered 17 more—guess what everybody on our list is getting for Christmas this year!?
04/24/2019
Cross
As always, your products and service are superior.
03/22/2019
celtic cross
order arrived within a few days and was much faster than expected. Purchased this item for a gift and after finishing it several friends saw it before I gifted and everyone loved it and I have been asked to make more.
02/05/2019
SO thankful!
I used this blank to create a unique and beautiful gift for a family member, and it was Amazing. The pieces (2) were perfectly proportional, the edges are clean and smooth, not jagged that will catch and tear soft material, and I really enjoyed quickly making this into a custom gift without having to forge the pieces myself. Already buying more!
01/14/2019
The service was great, even
The service was great, even during the Holiday season. Great quality pieces, and even with my beginner's skills, they turned out great. I will definitely be purchasing more from you.
10/15/2018
excellent cross
I have bought this cross before. I will buy more. I could not be more pleased.
02/08/2018
Celtic Cross Project
Well packaged and shipped same day as ordered. The video on how to forge the cross showed me exactly what needed to be done. That's why I ordered this item and will probably order other items next time.
01/10/2018
Celtic Cross
Perfect purchase, no delays even over holiday season. Great material and well documented instructions
12/09/2017
Celtic cross
Great product, fast service.
09/29/2017
:)
Good quality Good price Good delivery
---